What's in a name? Why Bucket-Of-Milk?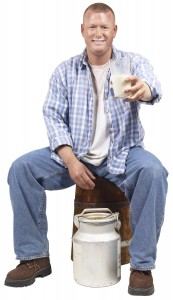 Milk … it does a body good.
Milk is full of vitamins, and calcium.
You feed it to babies
You leave it for Santa
It gives you a faux mustache
Served in a bottle, in a glass, straight from the carton
A Bucket of Milk is… un-pasteurized … non-homogenized … full-fat
About Bucket-of-Milk:
What's in a name? Why Bucket-Of-Milk? Well you see it is a double entendre , milk does a body good being rich in calcium and vitamins; however a bucket-of-milk insinuates it is directly from the utter. So straight from the utter it is still unpasteurized, non-homogenized, and is full of fat, much like the writings you will find here at Bucket-Of-Milk.
By the way my views and opinions herein from this point on are completely my own and do not express those of any other person, place, thing or company past, present or future (well future might be a stretch … everyone has a price).
Additionally I do not employ anyone to proof spelling, grammar or completion of thoughts. So if the writings suck you will either have to deal with it or move on to some equally ridiculous other location out there on the web.
Welcome and happy reading!
Comments
comments